Basalt Skid Pan tiles for test tracks
SKID-PAN tiles, which are used by all leading world manufacturers of automobiles and tyres for testing of vehicles and tyres of test polygons, where these water sprayed tiles imitates the icy surfaces
130.000 m2 (1.399.320 sq ft)  -  so large area could be created by our skid pan tiles installed since 1980
The history of cast basalt surface on test tracks dates back to 1979 when M.I.R.A. contacted Greenbank Engineering Ltd. and the cooperation resulted in the first BASALTICE trial part of the test track at the proving ground at Nuneaton, England.
We have come a long way since then.
Many of our competitors have copied the design but they haven't copied our quality and technological excellence.
Thanks to M.I.R.A., Greenbank Engineering Ltd., and Eutit engineers and workers the basalt tiles became a standard in the automotive world.
Thanks to intensive cooperation with our Japanese partners, today we supply most surfaces in a diamond-polished design.
Thanks to our partners, representatives, we supply this basalt surface all over the world.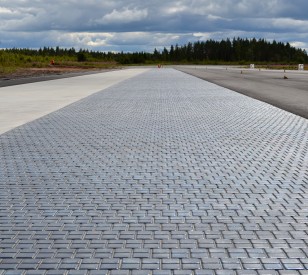 Please do not hesitate to contact us
Items marked with an asterisk are obligatory.