Winning the CZECH Stability Award
We would like to proudly announce that in the CZECH TOP 100 evaluation our EUTIT Company has received a prestigious International Award; specifically the highest AAA rating - EXCELLENT.
This means that we are ranked amongst the most trusted companies in the Czech Republic that are entitled to use their AAA certification as a symbol of their highest level credit rating.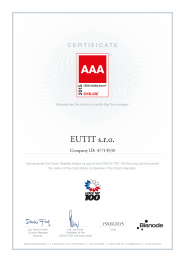 The CZECH Stability Award ratings are announced by Bisnode, in cooperation with the CZECH TOP 100 Association. The evaluation results of individual companies in the category of the "Most Stable Company of the Year" are announced annually within the CZECH TOP 100 and are published in business media.
The AAA award, the history of which dates back to 1908, represents a strong independent rating of firms and companies. The award can be granted only to those companies that meet strict economic criteria and the certification conditions. The certification is based on international evaluation using the original and fully-proven methodology.
Only 0.9% of the entities operating in the Czech Republic can achieve a Grade A to AAA certificate, while the prestigious AAA rating can be achieved by only0.09% of the best companies. Obtaining this certificate represents a guarantee of reliability and solvency, which, for potential clients, represents fair and honest business relations.
The rating assessments must take into account factors both within the company and also the external factors. It is not only the economic conditions that are assessed  – i.e. reviews based on accounting indicators (profit, capital structure, liquidity, fund development, etc.), but also, for example, management, the quality of relations with business partners, risk management and corporate strategy.
WHO CAN RECEIVE THIS CERTIFICATE
an unencumbered company that is neither in bankruptcy nor in liquidation
a company that, in accordance with the monitoring of the payment status, has no obligations that are more than 30 days overdue
a legal entity that pays VAT
a company that has duly published its most recent financial statement no more than 22 months ago
a company with an equity capital of at least CZK 500,000 that is at least equal to the amount of its registered capital
a company with a min. 20-25% level of profitability on equity and/or a profit margin of 3-5%
a company that has existed for at least 10 years or for 4 years with a registered capital of over CZK 25 million (applicable only in regard to the AAA certificate)
Please do not hesitate to contact us
Items marked with an asterisk are obligatory.