Basalt Pavement
The pavement is made by melting of natural basalt and its casting into metal moulds.

The paving tiles cast by this manner feature excellent properties, due to which they are used in industrial operations exposed to mechanical and/or chemical loads. They are also often used due to their attractive and uncommon appearance.

This range covers tiles with smooth or anti-slipping surface and their various accessories, such as coved tiles, so-called L-pieces, and many atypical shape tiles.

Colour of the pavement is determined by nature of the natural material and cannot be changed or painted.

Each tile is an original by its appearance and thus also the floors made from our tiles are non-repeatable and unique.


The pavements are divided as follows:
Types of tile back sides – rasters
The basalt tiles are produced with three basic types of the back side:


With rough grooving – so-called rough raster, marking = R
With fine grooving – so-called fine raster, marking = JR
Without raster – so-called smooth tiles, marking = H

R - The tiles with rough raster are used for laying into bed from wet concrete mix, or it may be glued by binding material similarly as ceramic tiles onto prepared, properly cleaned, matured and compact concrete bed.

JR - The tiles with fine raster are used for gluing by binding material similarly as ceramic tiles onto prepared, properly cleaned, matured and compact concrete bed. The use of this raster is advantageous also for special adhesives and binders, e.g. in chemical operations, regarding the decreased consumption of the adhesive.

H - The smooth tiles are used very rarely, mainly for special purposed, where extreme minimum thickness and minimum consumption of the basement adhesive is required. As standard, the raster tiles with R and JR grooves are produced.
Laying of Basalt Pavements
The products of melted basalt are, particularly on casting into the metal moulds, smooth, practically with zero imbition. For their better adhesiveness to the binders, their non-working sides are fitted with finer or rougher grooving, and additionally the sand is pressed into the surface during casting, and the surface is roughened by individual sand grains, which are firmly bound in the basalt.

The adhesive capacity tests proved that these "sanded" castings feature very good adhesiveness both to classic, and to modern synthetic binders.


Grooving on tile back side for better adhesiveness during laying:
R type – rough grooving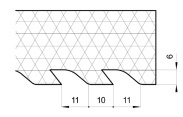 JR type – fine grooving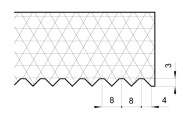 Rough grooving - "R" on the back side is used mainly for industrial pavements intended for tilted and vertical surfaces of the storage tanks, lining of dragline conveyors and other technologic equipments.
The back sides of tiles for floors are fitted with fine grooving - "JR".

Regarding practically zero imbition our mortars and adhesives are recommended for binding of the basalt pavements, see EUFIX material range.

The basalt tiles are laid by common manner known from civil engineering. It is however necessary to consider higher thickness of binding adhesive or binder regarding the basalt tile thickness tolerance ± 2 mm or eventual irregularity of bed concretes.

Before laying the tile should be cleaned from dust, e.g. by dipping into water. After cleaning and eventual further treatment of the pavement bed the tiles are laid into the mortar bed or into the bed from wet concrete mix. They may be also glued with binder similarly as the ceramic tiles onto prepared, properly cleaned, matured and compact concrete bed. The adhesive should be spread onto whole bed surface. The adhesive should be applied by toothed scraper (tooth height 6-8mm).

The laying process should prevent occurrence of cavities under the tiles and irregular laying along the back side regarding the surface. The adhesive should penetrate the interstices max. to 1/3 of tile thickness. The application of binding adhesive to the back side of individual tiles is not allowed. Temperature during laying (incl. bed) should adhere to the instructions of the adhesive manufacturer.

Pointing should be carried out only if the adhesive is sufficiently cured, after 1 to 2 days. The recommended tool for the pointing is pointer z EUFIX material range. Recommended interstice size between the tiles is min 3-7 mm. The interstices should be evenly wide, flat, straight and non-depressed. The interstices are filed with pointing compound and should not protrude over the floor surface. The residual compound should be removed.
Regarding slight surface unevenness (caused by cooling of a melt in mould) it is necessary to ensure the "cleanness" of the work during the laying, but particularly during pointing.

Longer leaving of the pointer – after its hardening - dried residuals can be removed only with very difficulties. Therefore washing is recommended immediately after partial curing of the interstices. There are however chemical removers of the pointing residuals, but it is idle to add the work efforts and worries.
Regarding to low thermal expansion of the melted basalt we recommend to keep the dilatation interstices made in concrete basement plate.

Laying of basalt pavements into special binders
Special binders for laying of basalt tiles are used in all working conditions, where commonly used adhesives cannot fulfil the conditions for perfect fixation of the tiles to the bed in particular environment. They are particularly the surfaces with mechanical or chemical loads.

Only under these special conditions the use of these adhesives is advantageous, as their application is much more demanding from the economical point of view. The epoxy binder is most often used for laying and pointing of the basalt tiles. In case of special use the consultation with the manufacturer of the binder is recommended.

Cutting of Basalt Pavements
The cutting is made by diamond saws under intense cooling with water. Based on our experience with the tile cutting we recommend use of diamond segment discs intended to cutting of hard materials, e.g. to cutting of granite.
Additionally, the manufacturer offers delivery of cut basalt tiles on basis of drawing or sketch upon; the service is however charged. E.g. ordering of cut halves of interlocking tiles of FLORENTINA type in longitudinal and traverse tile axis together with the pavement delivery is particularly advantageous.

Further the manufacturer recommends ordering of cutting of coved tiles for lining of inner and outer corners of lined areas.
The basalt tiles can be also drilled with diamond annular bits (e.g. for assembly of machines in production halls) or milled with diamond tools. Common grinding may be carried out also with silicon carbide, both in wet and dry conditions.

Maintenance of Basalt Floors
The surface of basalt pavements is dust-free, it is easily maintained with common and mechanical cleaning means; it applies also for the anti-slipping pavements, where the offsets are designed for easy cleaning. The basalt pavements also resist to strong chemical agents used for sanitary cleaning works.

The manufacturer recommends to clean the interior pavements after assembly with 8 % vinegar and to wax with common substances for maintenance of floor covering, and then wipe with wed cloth.
Recommendation of experience: for final washing of the floor - add one tablespoon of petroleum into the vessel with water and wipe the floor with resulting solution.




EUFIX - Mortars, Adhesives, Pointers




Properties of Materials


More detailed information on melted basalt and basalt pavements are available in Catalogue Sheet in section "Download" – Catalogue Sheet E-01.

Please do not hesitate to contact us
Items marked with an asterisk are obligatory.