Variabilní mozaikové dlažby THALES
Podívejte se jak zajímavé skladby můžete vytvořit z dlaždic THALES. Několik tvarů základních dlaždic jejichž kombinací vznikají na první pohled nepravidelné mozaiky krásných tvarů.
Chcete-li mít podlahu nejen z netradičního materiálu, ale i netradiční skladbu, toto je přesně to pro vás!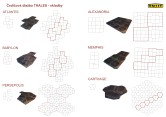 Více pak na stránkách věnovaných dlaždicéím 
Thales
Please do not hesitate to contact us
Items marked with an asterisk are obligatory.