Hned dvě ocenění pro naši firmu najednou
V jubilejním 10. ročníku soutěže "Nejlepší výrobce stavebnin roku 2016" získal EUTIT hned dvě ocenění.
Jednak diplom za "UMÍSTĚNÍ V UŽŠÍ NOMINACI SOUTĚŽE" a "CENU ČASOPISU STAVEBNICTVÍ", obě ocenění v kategorii výrobců stavebnin do 250 zaměstnanců.
Porota složená ze zástupců organizací vypisujících soutěž - Svazu podnikatelů ve stavebnictví, MPO a ÚRS - v odůvodnění ocenila EUTIT a jeho výrobky, jakož i trvalou inovační aktivitu společnosti. Slavnostní předání cen se uskutečnilo 20. 9. 2017 na zámku Ctěnice.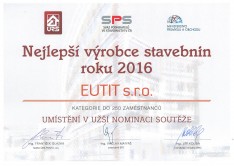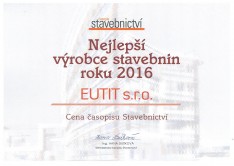 Please do not hesitate to contact us
Items marked with an asterisk are obligatory.